SOULEIADO Cassis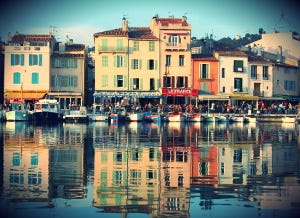 Nestling between the high golden cliffs of the cap Canaille and the majestic white calanques, the small fishing port of Cassis embodies the gentle lifestyle of Provence.
The little streets in the old part of town and the colourful lively quayside are an invitation to take a leisurely stroll.
Located in the heart of the village, opposite the historic Cassidaine fountain, our boutique reflects a harmonious combination of Provencal traditions and contemporary style.
Wearing the Provencal style which personifies our brand, we look forward to welcoming you in an atmosphere of disarming freshness.
Address:
20, avenue Victor-Hugo
13260 Cassis
Tel: 04 42 73 11 68
Opening hours:
Opening hours
Monday 10:00 - 13:00 / 14:00 - 18:00
Tuesday 10:30 - 18:30
Wednesday 10:30 - 18:30
Thursday 10:00 - 13:00 / 14:00 - 18:00
Friday 10:30 - 18:30
Saturday 10:30 - 18:30
Sunday 10:30 - 18:30