Souleiado Nîmes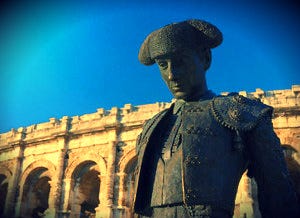 Souleiado's Nîmes boutique is situated in the Ecusson district of the historical centre, a cultural and historical crossroads consisting of a labyrinth of interconnecting streets, squares both large and small as well as host of architectural treasures.
Town houses built between the 16th and 19th centuries, a City Hall dating from the 18th century, decorated facades.
La Maison Carrée, a 1st century Roman temple and its contemporary twin le Carré d'art, a glass creation by Norman Foster housing the town's contemporary art museum. But also the Roman amphitheatre in the middle of a wide esplanade, decorated by the imposing Pradier fountain representing the symbols of the town of Nîmes.
Address:
27, rue de la Madeleine - 30 000 Nîmes
Tel/Fax: 04.66.36.70.15
Opening hours:
Monday 14:00 - 19:00
Tuesday 10:00 - 13:00 & 14:00 - 18:00
Wednesday 10:00 - 13:00 & 14:00 - 18:00
Thursday 10:00 - 13:00 & 14:00 - 18:00
Friday 10:00 - 13:00 & 14:00 - 18:00
Saturday10:00 - 13:00 & 14:00 - 18:00
Sunday closed